The Samadhi Mandir at Shirdi.
Nestled in Maharashtra, the temple town of Shirdi is woven around the teachings of Sai Baba, the revered saint who lived here for more than five decades. Every year, Shirdi attracts over 60,000 devotees and followers of all faiths and religions – thus making it as one of the busiest pilgrimage location in India. The main temple – Shirdi Sai Baba Samadhi Mandir is located at the heart of the town,  where Sri Sai's mortal remains lie today.
When is the best time to visit Shirdi?

Specifically, there is no right or off-season time. You can choose to visit on auspicious dates as per calendar, or can offer a regular visit.
The festive months of September to December are the busiest in Shirdi, as maximum devotees chooses Dussehra Festival and Diwali.
Holi, Guru Purnima, Gudi Padwa, the Marathi New Year are some of more chosen days.
Usually, Monday-Tuesday & Wednesday sees less devotees compare to weekends and Thursdays. The best time for a quiet darshan is between 12 noon and the evening on weekdays.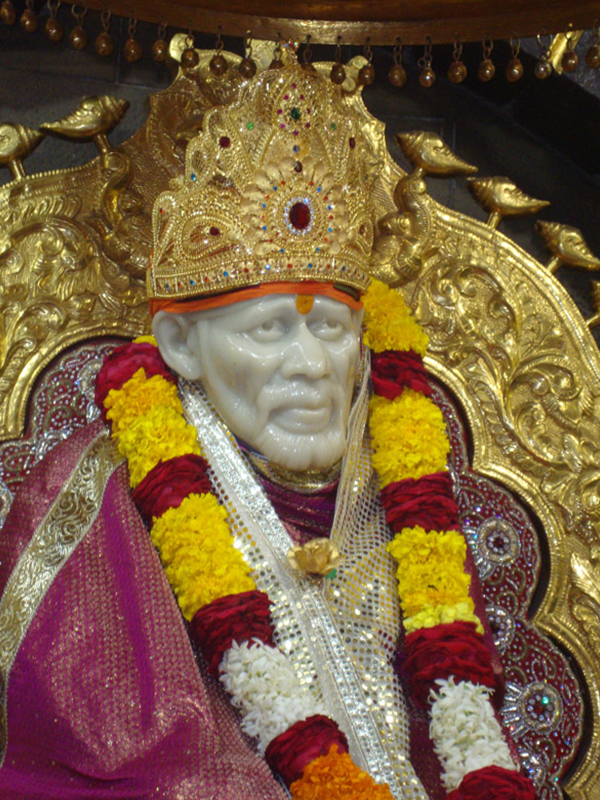 How to Reach Shirdi?
Shirdi is well connected to most major Indian cities and you can take the road, rail or air to get in and out:

By Road
Shirdi is 83km from Ahmednagar, 307km from Mumbai, 112km from Nashik and 126 km from Aurangabad. Highways are wide and well developed.

By Rail
Shirdi has own railway station named "SaiNagar" inaugurated in 2010. Other nearest Railway stations are Manmad-Junction (60 Kms), Kopargaon(22 Kms) and Nagarsul (50 Kms) on the Central Railway.

By Flight
The Sri Sai Baba International Airport is 15km from the Samadhi Mandir. At present Air India operates direct flights from Mumbai & Hyderabad to Shirdi.

By Helicopter
SkyAviation operates a heli-taxi service from Mumbai's Juhu aerodrome to Shirdi. You will be whisked to Shirdi and back the same day on a six-seater chopper. The package includes VIP darshan and travel within Shirdi. The charter is priced at Rs3.3 lakh (incl taxes) for a group of six.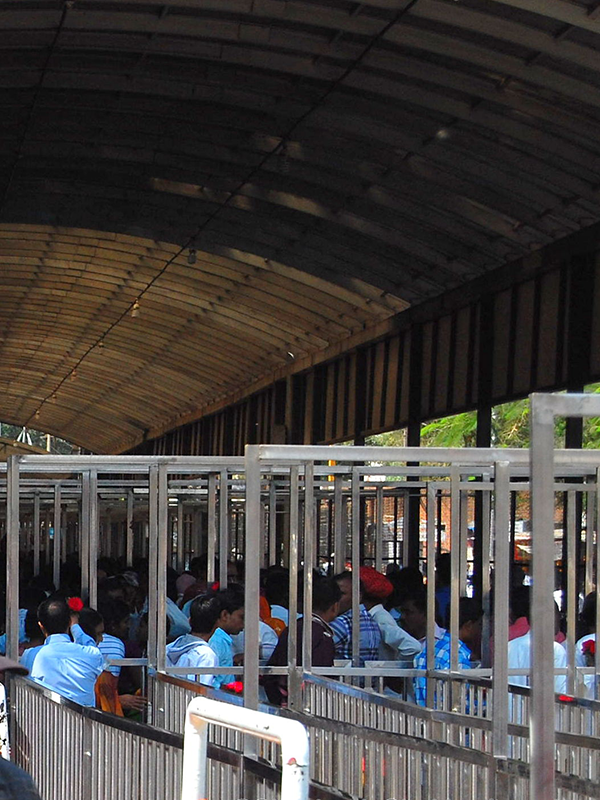 How does one get VIP darshan at Shirdi?
You can do it the hard way: queue up like everyone else does for the Baba's blessings. But if you're in a hurry, you can also opt for the VIP darshan, tickets for which can be booked in advance on the temple's online portal. On the day of the darshan, proceed to Gate 3 and get your identity verified to proceed further. Alternatively, tickets can also be bought on site at Gate 1. This is highly subject to availability.
Morning aarti (4.30am): Rs500
Madhyan aarti (12pm): Rs300
Dhoop aarti (sunset): Rs300
Shej aarti (10.30pm): Rs300
Another option is to opt for the Quick Darshan provision for a sum of Rs1,500. However, many argue that this would take away from the quintessential Shirdi darshan experience.
What are the aarti timings at Shirdi's Sai Baba temple?
The Samadhi Mandir, where Sai Baba's mortal remains lie after the Mahasamadhi 100 years ago, is the hub of all activity. This is the main temple, and attracts the most number of devotees.
Most of what you do in and around Shirdi will invariably work around the aarti timings at the Samadhi Mandir. These key hours of the day guide the ebb and flow of devotees into the mandir and, as a result, also at the other places of interest in town. The temple is open from 4am to a little after the last aarti at 10.30pm. You can visit any time in between. But if you want to time your visit to the special aartis, here's a schedule: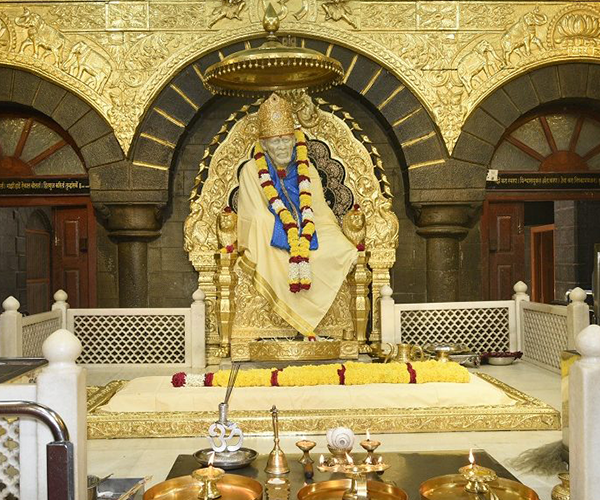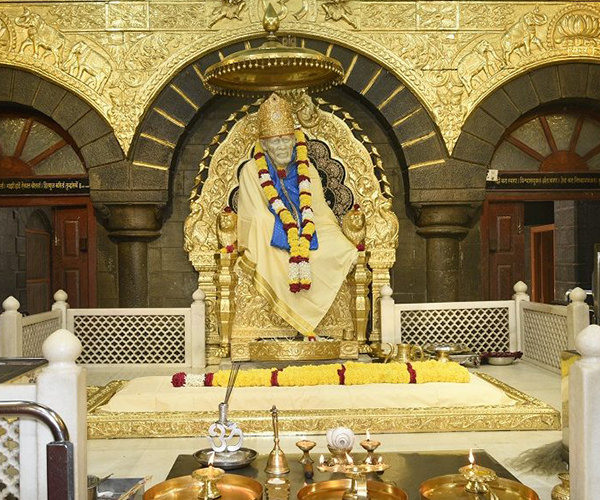 | | |
| --- | --- |
| 4am | Temple opens |
| 4.15am | Bhupali |
| 4.30am | Kakad aarti |
| 5am | Bhajan in the Samadhi Mandir |
| 5.05am | Mangal snaan in the Samadhi Mandir |
| 5.35am | Aarti "Shirdi Majhe Pandharpur" |
| 5.40am | Darshan begins in Samadhi Mandir |
| 11.30am | Dhuni pooja with ghee in Dwarkamai (next door) |
| 12 noon | Afternoon Aarti |
| 4pm | Pothi (Devotional Reading/Study) in Samadhi Mandir |
| Sunset | Dhoop Aarti |
| 8.30-10pm | Devotional Songs in Samadhi Mandir & Cultural Programmes (if any) |
| 10:30pm | Shej (night) Aarti |
| 11.15pm | Samadhi Mandir temple shuts |
What are the other things to do in Shirdi?

Dwarkamai
This place at the heart of Shirdi is unique for two reasons; it is probably the only mosque in the world with a temple inside. Sai Baba restored this dilapidated mosque years ago. Devotees from all faiths come here to pay their respects to the holy saint. The other interesting thing about Dwarkamai is the fact that the dhuni or the sacred fire that Sai Baba lit here in his time has been kept burning to this day. One of the most prominent things about Shirdi Sai Baba is the vibhooti or the sacred ash that comes out of this very dhuni, it is believed to have healing powers.

Shani Shingnapur
This village 74km from Shirdi is named after Shani, the Hindu god associated with planet Saturn. Lord Shani is believed to be the god of justice and determines one's 'karma'. What's most interesting about this place is that no house in the village has any doors or locks, yet there have been no official theft reports yet. The locals believe that anyone who attempts to steal is punished swiftly and cruelly by Shani.

Dixit Wada Museum
This museum in Shirdi showcases some of Sai Baba's personal belongings and other paraphernalia. You can see some of his cooking utensils, robes, gramophone records and leather padukas(footwear) as well as some rare pictures of Sai Baba and his early disciples displayed on the walls. A visit here offers interesting insights into the simple and pious life he led. The museum is located within the Sai Baba Sansthan Trust and is open every day of the week from 10am to 6pm. There is no entry fee to access the museum.

Sai Heritage Village
This is village set-up created to replicate Shirdi from a century ago. It lets visitors experience living in the Shirdi from Sai Baba's time. Located at less than 4km from the main town, this is the perfect place to spend an afternoon for some peace and quiet. It displays models and statues depicting his life.
Any other tips for those visiting Shirdi?
Avoid Thursdays if you don't like crowds. Thursday is considered the day of the Baba and is the most crowded, right from dawn till dusk.

There is no hard and fast rule for what to wear in Shirdi. However, as this is a religious place, it is advisable to wear something that covers one's shoulders and knees, out of respect.

The waiting time in the darshan lines has been known to go up to over 3-4 hours before each aarti. The crowd may get a little impatient and unruly at times. Stay alert and anticipate all possibilities.

Phones, cameras and other electronic devices cannot be carried inside the main temple area. You can deposit them in the lockers outside.

Try and book your accommodation and darshan online in advance for a hassle-free experience.

For those in need of wheelchair assistance, they are available for free, at Gate 5.

A lesser known fact is that Shirdi is actually one of India's largest exporters of fruits. Be sure to try the fresh grapes, guavas and pomegranates grown here.